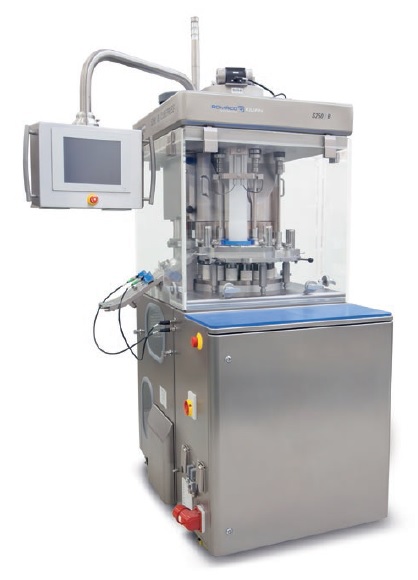 Romaco Kilian
S 250 B/BL Tablet Press
The Romaco Kilian S 250 B/BL Series is the ideal machine for mid-size volume food and specialty pharmaceutical production. It is a reliable and robust rotary tablet press developed for food applications where high volume filling is required as well as for products with poor flowability. The press
is optimised to handle sticky products. It is designed for continuous production in extreme production environments even without any climate control in the production area.
The 3-column construction concept offers a high filling depth of 45 mm for up to 45 mm diameter tablets.
Benefits of the S 250 B/BL
We have dedicated solutions for:
Bouillon cubes
Cocoa or milk powder
Homeopathic products
Sticky or poor flowing products
Technical Highlights
Fully automated (without hand wheels)
Compact design (integrated electrical cabinet, HMI mounted on swivel arm)
Hygienic design
Special highly efficient filling system
Fill depth up to 45 mm
Multi-tip tooling available
Direct packing line synchronisation