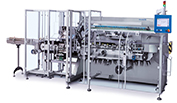 Romaco Promatic PC 4000 Horizontal Cartoners
The Promatic PC 4000 series is a flexible high speed cartoner range designed to satisfy the most demanding applications. It offers a wide range of tailor-made feeding options for different products.
The PC 4000 range of cartoners consistently delivers flexibility, ergonomics and efficiency at speeds up to 400 cartons/min.
Benefits of the PC 4000
GMP compliant design meets even the most demanding standards in pharmaceutical production 
Easy access reduces retooling and cleaning times to a minimum 
Ergonomic working height for maximum operating convenience 
Balcony structure
High flexibility for customisation
Technical Highlights
Patented system for picking up and opening the cartons 
Torque limiters for all drives 
Modular design facilitates bespoke feed systems and the integration of numerous additional functions 
Industrial PC operating system with servo motor for perfectly synchronised mechanical and electronic movements
Retractable carton magazine allows optimal access to all machine components 
Reproducible, toolless format changes in under thirty minutes; stack heights can be modified in less than ten minutes 
Low vibration and noise levels thanks to servo motors and belt drives 
Driven exclusively by pulleys and toothed belts (no chains)