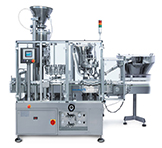 Romaco Macofar MACRO-D 5 and MACRO-D 8 Macrodosing Machines
The MACRO-D 5 and MACRO-D 8 continuous motion powder dosing machines are used to fill non free flowing powders, dry syrups and the like into glass or plastic bottles.
Closing can be realized with any type of caps, including child-proof caps. In addition, the machine can be equipped with an additional group to fit a dosing cup on the already closed bottle. 
Benefits of the MACRO-D 5 and MACRO-D 8
Glass partition wall separating the closing station from the filling station
Suitable for a wide variety of caps including CRC (child resistant closures)
Modular, flexible design
Technical Highlights
Pre-screwing head for plastic screw caps
Vacuum / pressure dosing into funnels
Transport container with vibration unit and dosing carousel
Individually configurable pistons and stainless steel wire mesh filters with different porosities depending on the particle size and powder type 
Also available without the closing group 
Machine can optionally be equipped to enable a dosing cup to be fitted to the closed bottles
Technical Data
 
MACRO-D 5
MACRO-D 8
Diameter, in mm
min. 30 – max. 60
Height, in mm
min. 50 – max. 170
Mechanical production, in pc/h
5,000 depending on vial stability, powder characteristics and installed options
8,000 depending on vial stability, powder characteristics and installed options
Standard dosing range, in cc.
min. 6 – max. 95
Installed power (only dosing ), in kW
5
Installed power (with closing unit), in kW
7
Compressed air consumption, in Nl/min
70
Compressed air pressure, in bar
7
Net weight
1,700 kg
1,950 kg
Gross weight
2,200 kg
2,700 kg