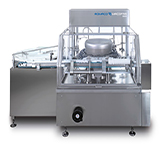 New Rotary Washing
Machine to complete
Romaco Macofar portfolio
RWM series are the new rotary washing
machines which complete the Romaco
Macofar portfolio.
Strong in its solid experience in the field of
linear washing machines, Romaco's portfolio
has been expanded to include rotary
washing machines.
The RWM series joins the Romaco range
with the purpose of meeting the most
broaden demands from worldwide
Customers.
Following the Romaco ideal of having a
customized solution for everyone's needs,
Romaco will be able to offer both linear
washing machines as well as rotary
washing machines.