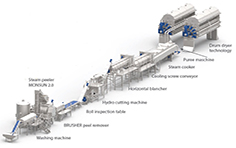 Potato Flakes Line
There is hardly any basic and all-purpose product, such as Potato Flakes. Whether it is being used for further processing or as mixing product, the application of this starchy intermediate product becomes more and more popular, even in the non-food sector. This means, even the waste of your other potato production can be processed in a profitable way.
This EIMA system grows proportional with the volume of your orders. Due to the generous design of the first components, such as Washing Machine and Steam Peeler, you may extend to a second line and install up to four Potato Flake Dryers.
An investment that is initially a little higher will pay for itself in no time. Explain your objectives to us – and we will plan with you a successful production line that will last you for a long time.
You can start small and grow "REALLY BIG"
capacity: 350 kg/h, 550 kg/h, 800 kg/h, 1100 kg/h, 1450 kg/h, 2200 kg/h, 2900 kg/h, 3600 kg/h
Your EIMA advantages:
Expandable production line architecture
Best cost/benefit ratio
Can be used with products which might otherwise be wasted