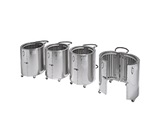 WILL & HAHNENSTEIN electric drum heaters and WILL & HAHNENSTEIN steam drum heaters are mobile radiators which can handle almost any heating problem at your plant or building site.

The proven strength of our product line lies in our wide variety of models and custom elements to match specific needs. Our standard product range includes explosion-protected drum heaters with stainless steel casings. All drum heaters come with full documentation and a CE stamp.
A SAMPLE MODEL: ELECTRIC DRUM HEATER TYPE (P) IDR
1. Insulated lid
All drum heaters can come equipped with integrated or separate lids (TDR). Oblong holes and pump openings can be made in any size on request.
2. Central switch box
The switch box contains all easy-to-operate switches and regulators wired for connection. The thermostat and safety regulator guarantee a safety.
3. Protective casing
The interior sheet metal case of the (P) IDR drum heater that protects the radiator elements from the drum has a special black coating for proper heat reflection.
4. Insulation
The double-walled case of the (P) IDR can be opened up, and is insulated with mineral wool and reflector foil facing outward. The drum is completely contained by the floor heater, lid and walls of the drum heater.
5. Floor heater
The BDR floor heater onsists of a circular heating plate on which the drum sits hermetically. A thermostat and a covered limit control "n. ICE 519" for unsupervised operation are fitted to the bottom of the insulated casing.
6. Mobility
Solid caster wheels guarantee easy handling and longevity. The floor heater on casters doubles as a drum trolley.
7. Drum sizes
We can handle drums of all sizes:
Drum sizes can range from 50L, 100L, 200L, 220L, 350L, 400L to 500L and beyond. Special barrels, kegs, IBCs and containers pose no problem for us!
OVERVIEW OF PRODUCT TYPES AND TECHNICAL DATA
Type
Litre
Energie ca. Litre
Power
Inside/ Outside ø mm

Whole height

/- length mm including swivel rollers

CDR/12
BDR/12
TDR/12
50-60
50-60
50-60
230V/50Hz
230V/50Hz
–
1,5 kW
1,0 kW
–
470/560
450/-
550/-
500
80
130
IDR/25
BDR/25
TDR/25
90-110
230V/50Hz
230V/50Hz
–
2,0 kW
1,5kW
–

 

515/-
–
–

 

680
80
130
IDR/45
BDR/45
PIDR/45
PBDR/45
TDR/45
200-220
230V/50Hz
230V/50Hz
400V/50Hz
400V/50Hz
–
4,0kW
1,5kW
4,0kW
1,5kW
–
650/-
–
650/-
–
–
975
80
975
80
130
(P)IDR/45with

integrated lid

TDR
200-220
230V/50Hz
(400V/50Hz)
4,0kW
600/-
1320


including to built up switch box

PIDR/90
BDR/90
TDR/90
350-500
400V/50Hz
230V/50Hz
7,0kW
2,0kW

840/-
–

–

1250
80
130
DIDR/200
DBDR/200
TDR/200
200-220
Stream or hot water

~3,5kW
~1,0kW

depending on steam care

650/-
–
–
975
80
150

Drum tilting frame FASSKULI with support heater and horizontal drum heater Energy approx. litres

FK-HDR/45
FK-HBDR/45
FK-HTDR/45
200-220
230V/50Hz
(400V/50Hz)
–
4,0kW
1,5kW
–
650
900long
–
900
700
130
FK-DHBR/200
FK-DHBDR/200
FK-HTDR/200
200-220
–
–
Stream or hot water


~3,5kW
~1,5kW


depending on steam care

650
900long
–
900
700
130