Capsule Filling Machine CD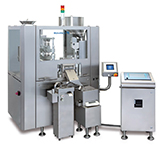 Capsule Filling Machine CD
from Romaco Macofar
Romaco Macofar's compact, intermittentmotion capsule filling and closing machines
are chosen by users all over the world for
their flexibility and user-friendliness. The
machines are ideal for small to medium
production runs, with mechanical speeds
ranging from 25,000 to 60,000 capsules
per hour.
The dosators are vacuum assisted,
which allows powders with difficult flow
characteristics to be handled, giving
improved compaction of powder.
Highlights
• Outstanding filling accuracy via verticalaction vacuum dosators
• Pellet dosage by means of a gravity
system, preserving the pellet integrity
and characteristics
• Capability to fill a wide range of powders
and/or pellets and/or tablets
• Minimum format parts for fast changeover
• Statistical weight control system for filled
capsules
• Optional automatic feeding groups for
products and capsules
• Full technical documentation for validation
purposes