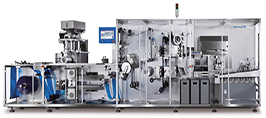 900 series from Romaco Noack
The Noack solutions impress with excellent
OEE values. Romaco continuously cuts
customer's unit packaging costs by delivering optimal value for money. All blister
machines in the Romaco Noack 900 series
can be supplied with either platen or rotary
sealing. A balcony structure ensuring cGMP
compliance together with integrated
Track & Trace and containment solutions
are the hallmarks of this technology.                                                            High level of automation with servo and
auto controls ensures precise execution
independent of the operator.
Highlights
• QuickFeed – interchangeable feeding unit
for product changeovers to be completed
within seconds
• QuickAdjust – the automatic station
control system for extremely short run-in
times and highly reliable processes
• QuickChange – complete changeover in
less than 30 minutes thanks to fail-safe
control, easy plug and play, and ergonomic lightweight construction
• QuickTransfer – servo-driven blister
transfer on a vacuum assisted overhead
conveyor
• QuickClean – significantly shorter cleaning times due to easy access, reduced
surfaces and a design without edges and
corners
• QuickAdmin – absolutely reproducible
processes and ergonomic HMI panel with
intuitive visualisation and navigation
• QuickControl – maximum production safety along with Track & Trace, audit trail and
batch records
• QuickConnect – Ready for Remote Assist;
OPC UA interface for production data
acquisition (PDA)