Pharmaceutical dryer & Laboratory oven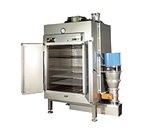 DRYER & OVENS FOR SPECIFIC PROBLEMS
The use of driers, ovens and warming cabinets in the field of pharmaceuticals and laboratories places special demands on the materials used with regard to
the materials and surfaces used
the good cleaning properties
the heat treatment documentation
the precision and variability
Often additional demands are placed on explosion protection or on the suitability for clean-room applications.
Examples of equipment we have supplied, always custom-built to meet the specific demands of the application, can be found here: Pharmaceutical driers and laboratory ovens.
Use by requests our Contactform.
HEATED TESTING STANDS
Material testing at high temperatures
Numerous material tests comprise a combination of load situations, and an increased ambient temperature often has to be taken into consideration in view of the installation and operation situation of the components.

We can offer complete solutions for such testing stands (e.g. pressure and bursting tests, leakage tests, expansion tests, etc.) at increased temperature.

To this end we supply the warming chamber with precision air feed as well as the actual testing equipment (pumps, component holders), the measuring sensor and the control equipment including evaluation and documentation software.