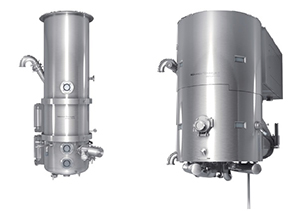 Romaco Innojet VENTILUS®
Production Scale Series
The production scale systems in the Romaco Innojet VENTILUS® series are designed for batch sizes from 40 to 1,600 litres. The technology is utilised in the pharmaceutical, food and chemical industries.
Different LE (Light Edition) and Premium Versions Provide Application Flexibility
VENTILUS® LE-D: for drying processes (optionally in combination with high-shear mixer)
VENTILUS® LE-G: for granulation processes
VENTILUS® LE-C: for granulation and coating processes
VENTILUS® Premium: «all-in-one» system with slide-out nozzle support, allowing spray nozzle changes without interrupting the process
Modular upgrade from a VENTILUS® LE-D dryer to a VENTILUS® LE-G granulator is a simple matter
Larger batch volumes or modifications on request
Highlights
WIP – washing in place: product-contacted parts inside the system are cleaned automatically
Strictly hygienic design of the interior speeds up cleaning
Special design of the ORBITER booster and the restriction to a single ROTOJET spray nozzle enable significantly shorter cleaning time after each batch
Filters washed in place as part of pre-cleaning after the process
Filters also available in a stainless steel CIP (cleaning in place) version
Inner cores and seals of the complete process filter are cleaned during washing
Small number of inflatable seals
GMP Granulation Line Concept
VENTILUS® systems can also be used as part of a multi-purpose wet granulation line in combination with a high-shear mixer. Owing to their application flexibility, they are ideal for contract manufacturing. The closed material transfer system has a built-in conical mill for wet and dry milling.
Horizontal product flow with a compact design and small footprint in the cleanroom
Discharge into different container sizes with a conical mill that is suitable for both wet and dry milling processes
Ergonomic, integral cleaning of all complementary equipment
Ex concept with interconnected process containers for fast and reliable transfer of intermediates
Technical Data
Technical data
V 100
V 200
V 300
V 400
V 600
V 800
V1000
V 1200
V 1600
Max. batch size (kg, at 1g/cm³) Premium and LE-C
100
200
300
400
600
800
1,000
1,200
1,600
Max. batch size (kg, at 0.5g/cm³) LE-D and LE-G
50
100
150
200
300
400
500
600
800
Min. batch size (kg, at 1g/cm³) Premium and LE-C
40
80
120
160
240
320
400
480
640
Min. batch size (kg, at 0.5g/cm³) LE-D and LE-G
20
40
60
80
120
160
200
240
320
Product container inside ø = booster ø (mm)
650
800
950
1,100
1,200
1,350
1,500
1,600
1,600
Air quantity (m³/h) Premium and LE-C
2,200
3,200
4,200
5,500
6,500
8,500
10,000
12,000
15,000
Air quantity (m³/h) LE-D and LE-G
1,200
1,800
2,300
3,000
4,000
5,000
6,000
8,000
9,000
Spray air quantity (Nm³/h at 3.0 bar spray pressure)
150
250
250
400
400
500
500
600
600
Steam pressure (barg/bara)
3.5 (4.5)
Cooling water for dehumidification (glycol-free) (forward/return) (°C)
6/12
Power consumption (KW)
32
44
65
70
85
100
115
135
170
Particle size min. (μm)
10
Particle size max. (mm)
2
Materials (product-contacted)
Stainless steel AISI 316l
Borosilicate glass
Filter media, plastic and seals FDA certified
Pressure shock resistance (bar)
10